Step #6: Be bold with your money moves.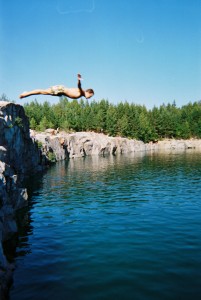 I knew my house would go into foreclosure if I didn't have the means to support it.  And I didn't have the stomach to withstand a loss or process like that. So I sold my just-renovated four bedroom beauty.  It broke my heart (I cried everyday) but I didn't die.
To get ready, I held a garage sale, listed furniture on Craig's List, and tossed out clothes and junk in the attic.  My sister MaryAnn helped me; it's always good to have someone there who insists "just toss it!" I cleaned throughout the fall and summer so come February I was ready to enlist a broker. I was realistic about the price my house would fetch and took the first decent offer.
I was on a quick plan to solvency, anxious to lift the pressure of having to maintain the household on my own. When the house was in the process of closing, we discovered the IRS had put a lien on the house from my husband's failure to pay his taxes.  I retained a tax attorney and prayed the sale would go through. And it did. I emerged with enough to use as a down payment on an apartment I bought two years later with a mortgage I could afford on my own.
Bottom Line:
Be bold. Not reckless. Choose tough, but possible, money moves.