I'm excited to announce that Bankruptcy: A Love Story, my memoir, will launch June 6th!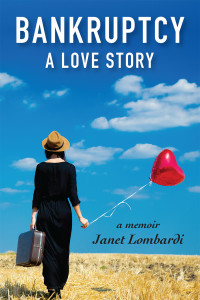 Kindle pre-order is now available on Amazon.
You can also pre-order a print book through my website.
Writing a book, and publishing it, is quite a road – from the afternoons being glued to my laptop so I could finish a chapter – (while all my friends were at the beach, hey!) – to finishing it, yes, typing the words The End – to editing it -yes, cutting manuscript from 600 pages to 400 pages (thanks Elaine Silver!) to pitching publishers and agents and having the good fortune to be picked up by the awesome boutique publisher Heliotrope Books, to learning how to work with a publicist – I've a great one, Mallory Campoli at Smith Publicity, Inc., to planning 2 (yes, 2!) book parties, to which all of you are invited – hold Saturday June 10th open for LI book party in Garden City, NY! I'll let you know when I have a date for the NYC party.
Phew! It's a lot.
Here's how the press release begins:
"Like every marriage, Janet Lombardi and her husband had some issues. From drug addiction to infidelities and lies, their relationship was far from perfect—but they still loved each other and had two children. After 25 years, it all came to a screeching halt. Janet was blindsided…"
You'll just have to read the book.
Please be my ambassadors and spread the word. I can't do it without you! If you know any groups, book clubs, or venues that would welcome the book or me personally, please let me know.
Thanks and I appreciate your support!
Stay tuned!
With love,
Janet