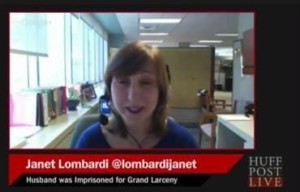 Yesterday, I had the great pleasure of appearing on a Huffington Post live web session dealing with the topic of family members who've "made mistakes." A producer contacted me after reading my essay on salon.com. Introduced by the current story of Allison Williams dealing with dad Brian Williams' suspension from NBC News after admitting he fabricated a story in 2003, the session featured four panelists, including me, who've confronted family members' destructive behavior and the effects on us.  It was surprising how many positive things the panel had to say.
View the segment here:  http://huff.lv/17grXLF.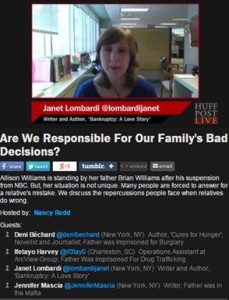 I enjoyed it so much! It gave me an opportunity to talk about my experience of living with a husband who committed a white-collar crime, the emotional upheaval, my acceptance of him and the circumstances, and the eventual crawl from the wreckage to a renewed life.  It also gave me a chance to mention my book, Bankruptcy: A Love Story, of which I'm finishing the rewrite. I can't wait to launch it!
I appreciated the panel conversation, also, because so often no one wants to discuss these topics but, as us panelists showed, exploration of these deep emotional experiences can be truly enriching.
Hey, you never know what will feed your wisdom and serenity.  I'm ever grateful.
I'd love to hear about your challenging moments.  Leave a comment.