"Why write about money?" friends have asked.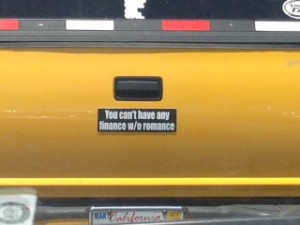 Since rebounding from a major financial knockout, I find the how's and why's of personal finance fascinating. Other people must agree as this photo of a bumper sticker, "You Can't Have Any Finance w/o Romance," was snapped by my son on a California highway.
Plus, I wish I had had Romance Your Finances when I was in the thick of my money crisis. I wish I had had the trusted friend who could've taken me by the hand and shown me how to get my life back. If you've read My Story, you know my money life crashed and burned spectacularly. It makes for a fascinating read so stay tuned for my memoir, Bankruptcy: A Love Story.
Well before we were in crisis, my husband and I went to a debt consolidation company.  I walked through that office crying out for help, like a suicide victim. I wanted those folks to show me how to manage day-to-day. Not investment advice, for which financial planners a-plenty will welcome you. But someone willing to show me how to live within my means and make a spending plan work.
At the end of our meeting, the nice debt consolidation folks said we were in good shape because we were making our payments. They claimed we didn't any help. After that, things nose-dived. My husband continued to debt and ended up further in the hole.
So Romance Your Finances is my attempt to bring readers back to personal money basics—to give back. So many people helped me.
Being healthy around money, which includes having a spiritual, nurturing attitude towards our dollars and ourselves can be achieved by anyone. But you need to be willing to look at your numbers and make courageous changes in your habits. You don't have to be a math genius to have a sane money life. You just need to know how to add and subtract.  And if you're struggling with debt, I urge you to try Debtor's Anonymous.
So let's get back to basics. Let's breach the personal finance taboo and start talking about our money lives. And abundance and prosperity will find you.