Huffington Post: How to Rebuild Your Finances after a Relationship Bankrupts You
January 15th, 2018
I had the pleasure of being interviewed by reporter Jakki Kerubo, writer, entrepreneur, advocate of time as currency, for this insightful look at navigating money in your relationship. Thanks, Jakki!
Saturday Night with Esme Murphy
August 5th, 2017
Super host Esme Murphy on WCCO News Radio 830 (Minneapolis) and I enjoy bold conversation about marriage, money, and what happens when the finances fall apart. How does a family get back on its feet?  Tips and talk!
Bob Brooks Prudent Money Podcast
August 1, 2017
How to Reclaim Your Life after a Financial Fallout. Prudent Money says: Bob interviews Janet Lombardi on her comeback story in her book Bankruptcy: A Love Story. Bob calls this a must read book. It is very relatable to today's marriage problems when it comes to money.
The Donna Seebo Show
June 12th, 2017
Deep conversation with long-time host Donna Seebo  about money, love, and choices. Worth a listen! Scroll down to Episode #850 (Janet Lombardi, July 12th) and click on the right side. (There's a box, though it may be covered up.) It will open in your iTunes. If you click on the episode on the left it will give you an error message.
Bloomberg Radio
June 29th, 2017
Gloria Gaynor's song "I Will Survive" was the lead-in to an awesome  interview about Bankruptcy: A Love Story and overcoming financial disaster, one similar to the country's 2008 financial fall from grace. Thanks, Carol Massur and Oliver Renick, awesome hosts, for an engaging conversation.
The New School Open House Interview 
June 14th, 2017
When love turned to bankruptcy for Janet Lombardi, she took it as a wake up call and opportunity to share her story, and encourage women to take control of their bank accounts–before it's too late.



WVFN

-AM – East Lansing, MI–Radio
June 13th, 2017
How white collar crime impacts families.
ASH SAID IT
June 7th, 2017
Fab interview with producer Ash Brown discussing my personal story, financial struggles, and the bounce back. Listen to the interview.
CNN Money
June 2nd, 2017
Awesome interview with CNN reporter Anna Bahney for CNN Money on "How to Put Your Financial and Emotional Life Together After a Money Catastrophe."
Catskill Review of Books
June 1st, 2017
Host Ian Williams, of the Catskill Review of Books calls Bankruptcy: A Love Story a tale of modern times, sex drugs, bankruptcy, 9-11 and 2008. Listen to the interview.
Life & Health Advisor
May 31st, 2017
A cautionary tale from the dark side of marriage highlights the need for financial-wedding-vows and the wisdom of expressed family-finances.
Fox News Radio
May 27th, 2017


Excited to share that Fox News Radio will be airing

Avoiding Financial Disasters: Tips for Women

, based on my interview with Carole Zimmer, awesome

podcaster

and journalist.

Two one-minute features will air throughout the weekend and on Memorial Day on Sirius XM Channel 115. Additionally, they will air on Fox News Radio Affiliates on Memorial Day.
WVON – Chicago, IL–Radio
May 25th, 2017
Why Women Should Control Their Own Finances, Your book, and How to recover from debt.
DollarStretcher.com
May 22nd, 2017
What baby boomer women need to know about their finances. Misconceptions women may have and steps you can take to get a clear picture.
CreditCards.com
May 5th, 2017
Six steps to make amends for financial misdeeds.
http://www.creditcards.com/credit-card-news/6-steps-making-amends-financial-misdeeds.php#.WRBUjcAkj0k.facebook.
Your Money Q&A
April 27th, 2017
Answering one question at a time on the way to financial freedom.
Book Marketing Buzz Blog Feature
April 12th, 2017
A unique blog dedicated to covering the worlds of book publishing and the news media, revealing creative ideas, practical strategies, interesting stories, and provocative opinions.
Magnify Money Interview 
January 16th, 2017
Read about me and and three other courageous women who got out of substantial debt.
Money Matters – Radio Interview
December 1st, 2016
Listen to great tips on personal finance management and rebounding from a financial mess! Chris Hensley hosts Houston-based radio show.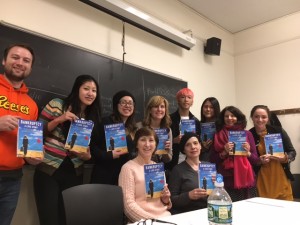 Thanks Susan Shapiro and New School students for hosting me and Naomi Rosenblatt, publisher, Heliotrope Books, at author/editor presentation on April 3! Awesome class! Thank you for your support for my memoir Bankruptcy: A Love Story.